Line Painting, Parking Lot Striping
& Traffic Marking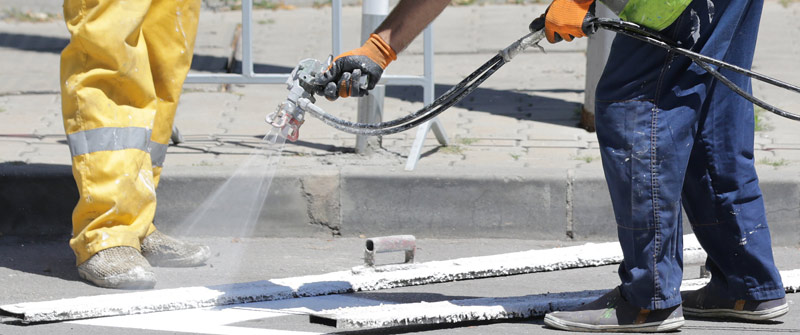 The appearance of a parking lot can be enhanced by proper pavement marking. Striping to signify parking spaces, while a large part of our pavement marking service, is only part of Cantel's full-serve capability to enhance the appeal, usability and safety of your parking lot or parking garage.
Traffic Markings — So Much More than Stripes
Good traffic flow in your parking lot is enhanced by clear, bright traffic markings, including designated parking stall locations clearly marked on the pavement surface. We paint parking stall lines, concrete bollards, curbs and speed bumps to help designate traffic markings
Visibility of Parking Striping is Key
Distinctly visible lines help ensure there's adequate parking for all clients, customers, and employees. Clearly marked, bright lines help to guide traffic within parking lots.
Avoiding Liability & Improving Traffic Flow
Parking lot lines in and around Portland, OR and Vancouver, WA fade over time from a combination of wear, freeze/thaw and UV exposure. When this happens, driving through the parking lot can be haphazard; accidents are more likely to occur if people can't see lines clearly.
Protecting your paved investment and minimizing risk requires regular maintenance for your parking lot, parking garage or access roadway. Updating traffic markings and painted lines visibly demonstrate that you care about all vehicle and pedestrian traffic on your property.
Pavement Marking and ADA Compliance
As the requirements for ADA compliance have changed, so have the allocation and marking of handicap accessible parking spaces and the associated signage. These areas have become more of a focus in our striping and pavement marking service.
When we stripe a parking lot, there are strict guidelines as outlined by the Americans With Disabilities Act (ADA).
Pavement striping and roadway markings that conform to the ADA guide ensure parking spaces are designated for the disabled. Our knowledge of the requirements and adherence to the law helps to reduce liability; clear markings help you avoid potential fines and penalties for not designating parking for the disabled.
Fresh Striping Can Add More Parking Spaces
Updating parking space configurations is another area of expertise for Cantel. In addition to clearly marking designated spaces in your parking area, adding a new line striping configuration can help maximize space utilization for your workers or patrons. By converting from straight-in to angled parking stalls, you can allow for improved traffic flow especially in highly congested areas like shopping malls.
Let Cantel Help You Make a Great First Impression!
Call us today for a no obligation quote and consultation on improving your pavement traffic markings and line striping for your parking areas and access roadways.