Need Your Parking Lot Swept?
Cantel Has You Covered!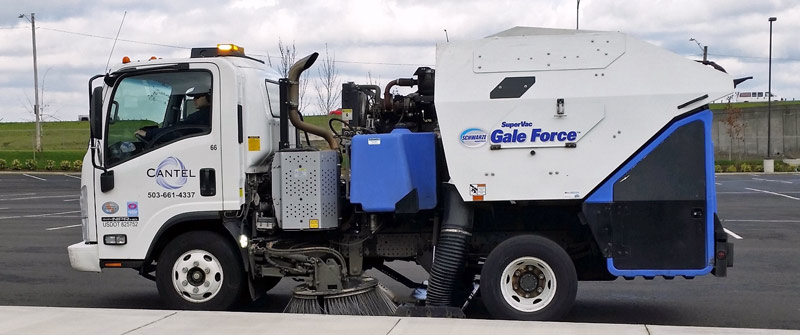 Since 1985 Cantel, has provided Portland, Oregon customers with high-quality parking lot cleaning and parking surface maintenance services.
Curb appeal plays a vital role in determining where people choose to shop. Your parking lot's appearance and cleanliness help give customers their first impression. A dirty, litter-strewn parking lot can give any business a negative appearance. A dirt-free environment is essential to attract quality retail tenants and their customers.
Regularly scheduled parking lot sweeping services keep your parking area, walkways and public access areas cleaner. Beyond increasing property values, a well-maintained parking lot has been shown to discourage people from littering.
Outsourcing your parking lot sweeping and parking site maintenance to Cantel Sweeping keeps you on-budget and keeps your parking garage, common areas and surrounding entry points trash-free and looking sharp!
Environmental Considerations & EPA Compliance
Sweeping helps remove trash, brake dust, rubber and other debris that can pollute Portland's stormwater. Without routine parking lot cleaning, contaminated stormwater runoff can travel across commercial parking areas and through our community's storm sewer system, ending up in our drinking water.
24/7 emergency cleanup is available as part of our commitment to outstanding service. With our fleet of over 20 vehicles, Cantel Sweeping is ALWAYS available! We are ready to help with your emergency cleanup needs in case of an environmental spill.
Our Parking Lot Sweeping Services includes:
Our sweeper truck operator uses a backpack blower to move debris away from sidewalks, curbs and building sides
Our sweeper truck drives through the parking lot picking up debris and trash
Our sweeper truck operator leaves an orange service card stating when they were at the property
On-Call sweeping services available
Weekly, Monthly and Quarterly sweeping services available
Our fleet of sweeper trucks operate day and night, allowing us to better work around our customers' needs
Our fleet consists of different types of trucks, allowing us to not only sweep parking lots but also parking garages
We are able to schedule work to comply with the noise ordinances
We Sweep the following:
Apartment Complexes
Strip Malls
Shopping Centers
Parking Garages
Industrial Facilities
Mobile Home Parks
Government Buildings
Churches
City Parks
Our trained professionals will keep your parking lot looking great!
You will discover that regular parking lot sweeping Cantel will provide lasting value to your property.